P.E.O. Chapter LP
At its Oct. 8 meeting, co-hosted by Karen Behrens, Carolyn Forbes, and Linda Knell, and held at the Charles E. Lakin Foundation Building in Council Bluffs, Chapter LP of the P.E.O. Sisterhood put the finishing touches on its annual Autumn Brunch and Bridge fundraiser to be held at 11 a.m. Oct. 25, in the community room of East Side Christian Church, 331 W. Bennett Ave., Council Bluffs.
This year's event — Autumn Harvest — represents five seasons the organization has invited bridge enthusiasts — men and women — from the greater Omaha/Council Bluffs area to participate. Attendance is by reservation and tickets are $15. Interested bridge players may mail checks to the attention of Karen Behrens, Chapter Treasurer, 109 Wilshire Ave., Council Bluffs 51503. Proceeds are earmarked for scholarships to help college students with financial needs. Deadline for reservations is Oct. 18.
Masterminding the menu and food preparation will be culinary artists Cheryl Punteney and Jeannette Brown who will be assisted by all other Chapter LP members each of whom will be marking their fifth year in this capacity. Commentary and introductions will be made by chapter president Monica Sciortino and Dee Youngman, emcee.
In observance of the theme, the brunch menu will feature an entrée of colorful fall vegetable salads with a savory chicken en casserole, followed by assorted homemade fruit desserts — pies and pastries. A plentiful array of chocolates and bonbons will be hard to resist as the afternoon games progress. Donated prizes designed for both men and women will be awarded intermittently throughout the afternoon. For more information or to make reservations by phone, contact Joanne Becker, Bridge coordinator, 712-366-5761.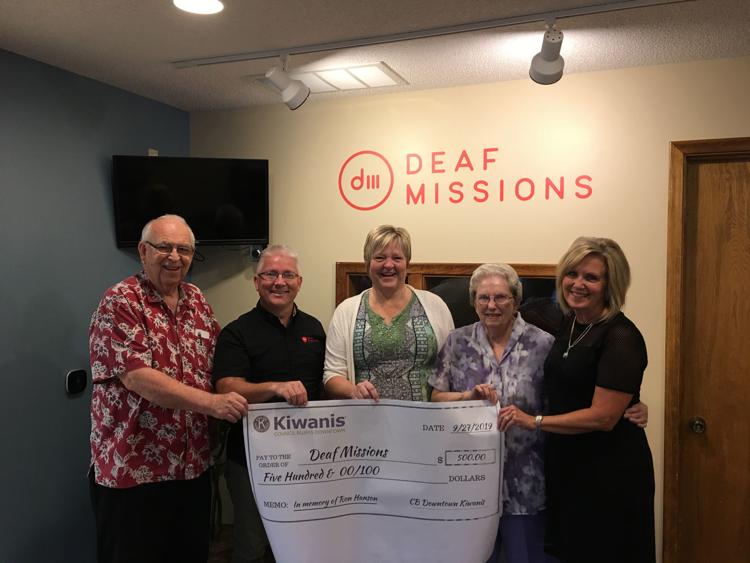 Downtown Kiwanis Club
Members of Council Bluffs' Downtown Kiwanis Club recently presented a $500 donation check to Deaf Missions as a memorial for Ron Hanson.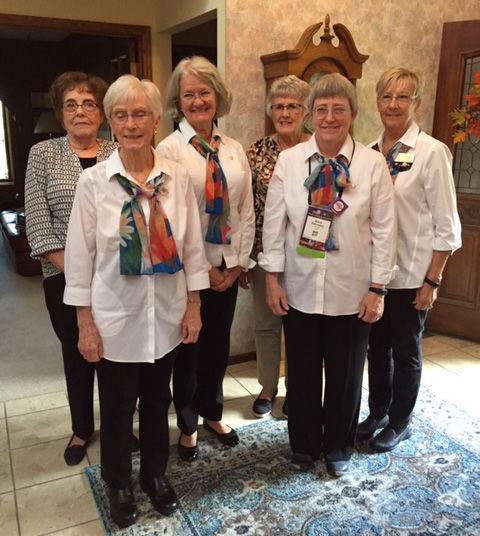 P.E.O. Chapter MF
P.E.O. Chapter MF met on Thursday morning Oct. 3 for its regular meeting in the home of hostess Linda Alexander with Karen Petersen serving as co-hostess.
Following the business meeting the program led by Nancy White recapped the recent International Convention. Nearly 6,000 members from across the country and Canada gathered to celebrate 150 years of philanthropic and educational opportunities made available to women around the world through this organization.
Our next gathering will be a social on Oct. 16 to celebrate the 50th birthday of Chapter MF.