A study by SafeHome.org released Tuesday found that Iowa is the seventh heaviest drinking state in America.
Varying widely by state, the study averages the percentage of people from 50 states and the District of Columbia who drink and how much. Overall, nearly 60% of Americans say they are regular drinkers and the average American consumes 2.3 gallons of alcohol annually, according to the study.
The biggest teetotaler states are Arkansas, Georgia and Mississippi, who each have overall scores that are a fraction of the scores among the highest-ranking states, according to the study.
Among the Top 10 states that drink the most, five are in the Midwest.
Iowa, ranking in seventh, drinks more than Nebraska, which came in at ninth, ahead of Minnesota (17th), Illinois (18th), and Missouri (23rd). The study found 63% of adult-aged Iowans drink regularly and 32% binge-drink regularly.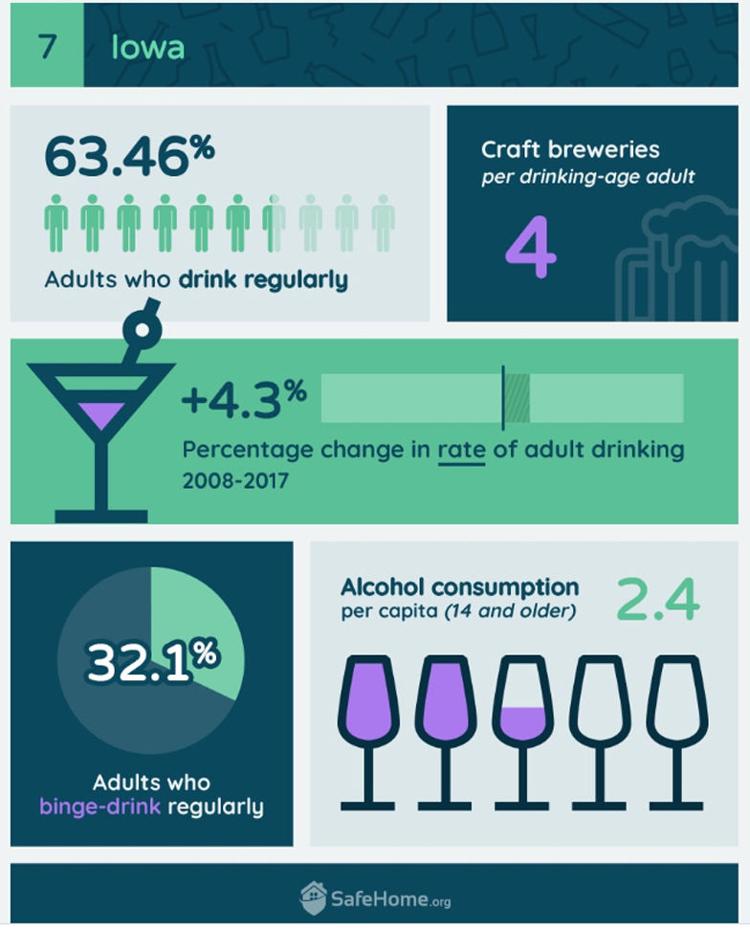 Because the study did not include the percentage of people who have alcoholism, drinking-related deaths or arrests stemming from drinking or drunkenness, Iowa ranked even higher on a darker side to this study.
Iowa ranked the sixth in overall drunkenness and dangerous drinking, under District of Columbia, Montana, South Dakota, Oregon and Vermont.
Of the worst drinkers in Iowa, 7.4% of them need treatment, but are not receiving any.
Although not ranked on the highest alcohol-related death rate list, Iowa ranked the fifth highest alcohol-related arrest rate per 100,000 people, which means, a good percentage of arrests are alcohol-related.
Per 100,000 people, there are 729 alcohol-related arrests in the state, almost 300 more than the U.S. average, according to the study.