The Omaha zoo's two leopard cubs weren't shy about making their public debut Wednesday. 
Joined by their mom, Rosemary, cubs Kennedi and Valens clambered over rocks, played tug of war with a bone and zoomed around their rocky exhibit with a sure-footedness that almost matched their mother's. 
The cubs, born May 22, were the latest in the Henry Doorly Zoo & Aquarium's history of breeding snow leopards.
Thirty-seven snow leopards have been born at the zoo in 20 litters through a partnership with 56 other accredited zoos in gene diversity and breeding planning.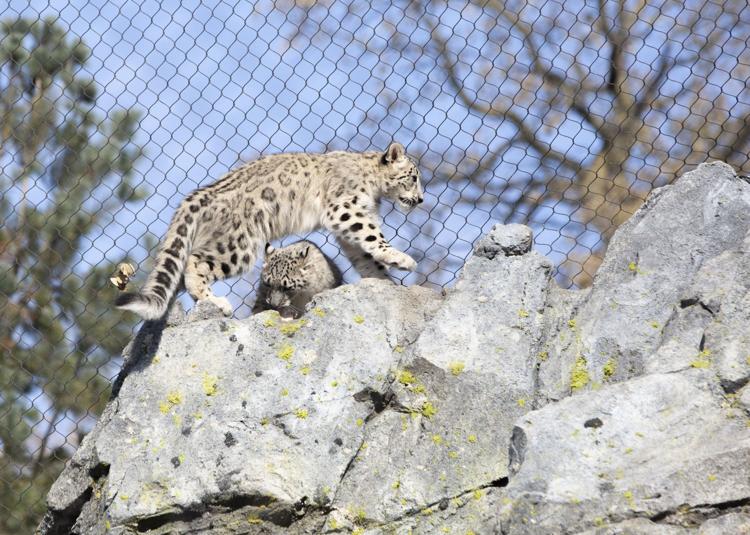 "It's a lot of fun (watching them) because it's a new environment for the adults and the cubs," said Dennis Pate, the zoo's director and CEO. "All the climbing opportunities, that they'll be able to look at and see longer distances...they're perfectly suited for the Asian Highlands habitat."
For now, the cubs will stay with mom in the Asian Highlands habitat, and in about a year and half, plans will be made to send them to other zoos where there's a need for snow leopard breeding.
The cubs' names, Kennedi, the female, and Valens, the male, were chosen by donors at the zoo's Zoofari fundraiser event.
Kennedi is a family name, and Valens comes from Greek origins meaning "strong and victorious," Pate said. 
Despite Valens' namesake, it was Kennedi who seemed most comfortable taking charge and jumping from rock to rock. She made her way to the very top of the rock pile and sat down with the look that seemed to say "I think I'm going to like it here."