JENKS, Okla. — Nancy MacCourt is well aware of the limits to her reading partners' attention spans.
"We go for a half-hour. That's about as long as you can get these little munchkins to sit still," she said, laughing.
And even that is pushing it. During a session last week, MacCourt's partner, pre-K student Payton Hargrove, grew a little fidgety, standing up then sitting back down several times as she turned the pages of Dr. Seuss' "Fox in Socks."
"Sometimes if a child is not into reading that day, we'll just talk," MacCourt said.
"It goes by so fast," she said of the half-hour sessions.
She could just as easily be talking about the school year.
MacCourt and other residents of Grace Living Center in Jenks were feeling a little sentimental last week as "Grandfriends," a partnership with Jenks Public Schools, prepared to close out another year.
The innovative program, which brings young children and senior adults together as a way to enrich one another's lives, marked its 20th anniversary in 2019. The last day of school for the Jenks district is this Friday, May 24.
Two classes — one pre-K, one kindergarten — have met at Grace throughout the school year, with regular coordinated interaction between the "grands" and "littles," as they are called.
The Grace classes, which meet in their own classrooms on site, are considered an extension of Jenks West Elementary School, and after kindergarten, students move there for first grade.
MacCourt, a four-year resident at Grace, has been participating in one of the activities, Book Buddies, for most of her time there.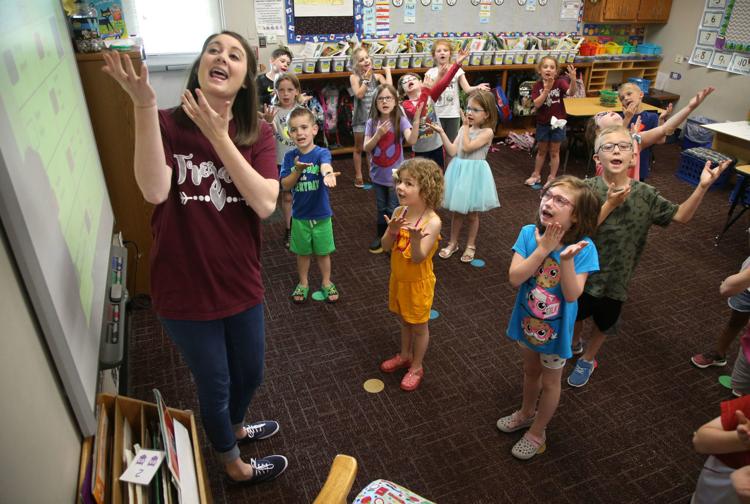 If the daily reading sessions aren't your thing, she said, there are plenty of other options for interacting with students — some group, some one-on-one.
A group exercise period is offered daily. And four days a week, residents and the kids meet for "shared study time," during which they work together on STEM, writing or other activities.
At a couple of weekly events, the focus is on fun and fraternizing: They include an ice cream social every Wednesday and, on Fridays, a group singalong.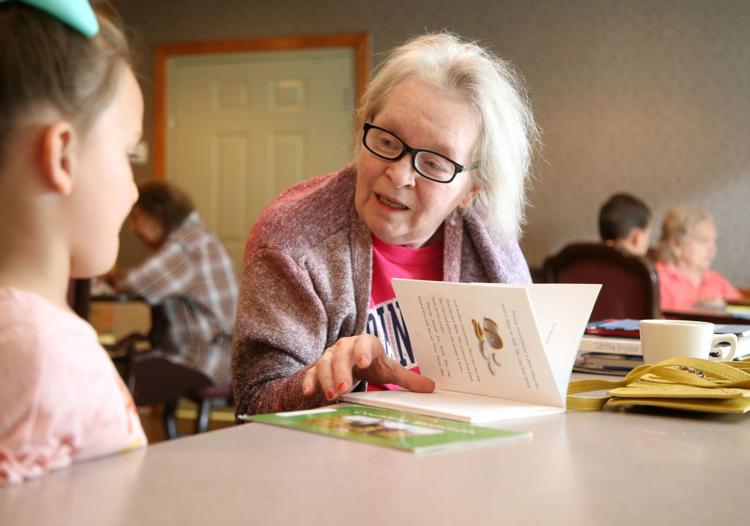 Shan Glandon, the district's executive director for teaching and learning, said each activity contributes to the "ongoing connectivity that we are building between the children and the residents."
Glandon has been involved from the program's beginning 20 years ago and has watched it evolve.
"How it all came together is a neat story," Glandon said.
It started, she said, when Jenks school officials were approached by Don Greiner, then the Grace president, to talk about how they might bring school kids and residents together in a way that was mutually beneficial.
The district was receptive, she said, and it went from there. The idea grew to include not only classrooms at Grace, but also a playground outside. Raised garden beds were added a few years ago so the students and residents could garden together.
Inspired by the Jenks program's success, others have copied it. Muskogee and Duncan schools partner with Grace locations in those areas, and Norman Public Schools will introduce a program next school year based on the Jenks model, Glandon said.
The program also has drawn its share of international visitors who hope to learn from what Jenks is doing.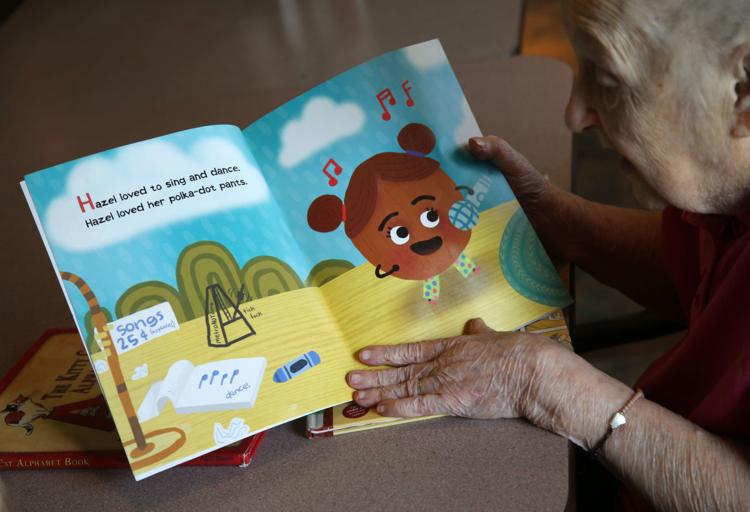 'It gives them life'
Every school day at Grace starts out the same way: As students arrive, a number of the residents gather in the atrium to welcome them.
What ensues is one big, happy exchange of "fist-bumps, hugs and high-fives," said Ken Owens, new Grace administrator, adding that the welcomes are his favorite part of the program.
Since he arrived at Grace eight months ago, Owens added, he's become a "true believer in the concept" of having the school classes on site.
"It breathes life into a nursing home," he said.
Adele Burnett has seen that happen firsthand during her three years there. The site's liaison with the school district, she coordinates the joint activities between students and residents, and she has her share of stories.
One that still brings her to tears involves a new resident who was not happy to be at Grace.
"She was angry," Burnett said. "She thought her family had brought her here to die."
Burnett invited her to do Book Buddies. Eventually, after much resistance, she accepted.
"She thanked me later," Burnett said. "She said, 'Thank you for not giving up on me. It's brought my soul back to life.'"
That's what the Grandfriends program does, Burnett added — "It gives our residents life."
Then there are the benefits to the children.
"It really teaches the kids empathy and to have compassion and respect for people who are different from them," said kindergarten teacher Katy Wilson, one of two teachers based at the facility.
Tricia Travers, pre-K teacher, agreed. "We have some residents who are in wheelchairs, some amputees, some who can't talk. Being around them, it becomes a normal part of life for the kids," she said.
A part of life that, come Friday, will be missed.
The last day of school at Grace isn't quite the same as at other sites.
Similar to the morning welcomes, every school day ends with a group of residents gathering to say goodbye to the kids and send them off.
That last send-off on Friday "will be emotional," said Wilson, in her third year at Grace.
"Especially for the kindergartners who know they won't be coming back," she said. "There will be lots of tears, lots of hugs."